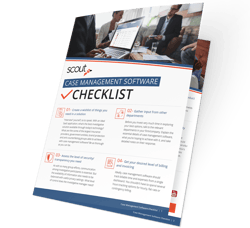 Sometimes you don't know what you don't know. This rings especially true when it comes to what to look for in a case management software solution.
You may be wondering what steps to take or questions to ask when seeking the right software.
Not to worry; we're here to help! The team at Scout has developed a case management software checklist, where you will learn:
How to narrow down your search for software
Why you must look at ratings
Reasons data integration can make all the difference
To get your free checklist, please fill out the form on this page.